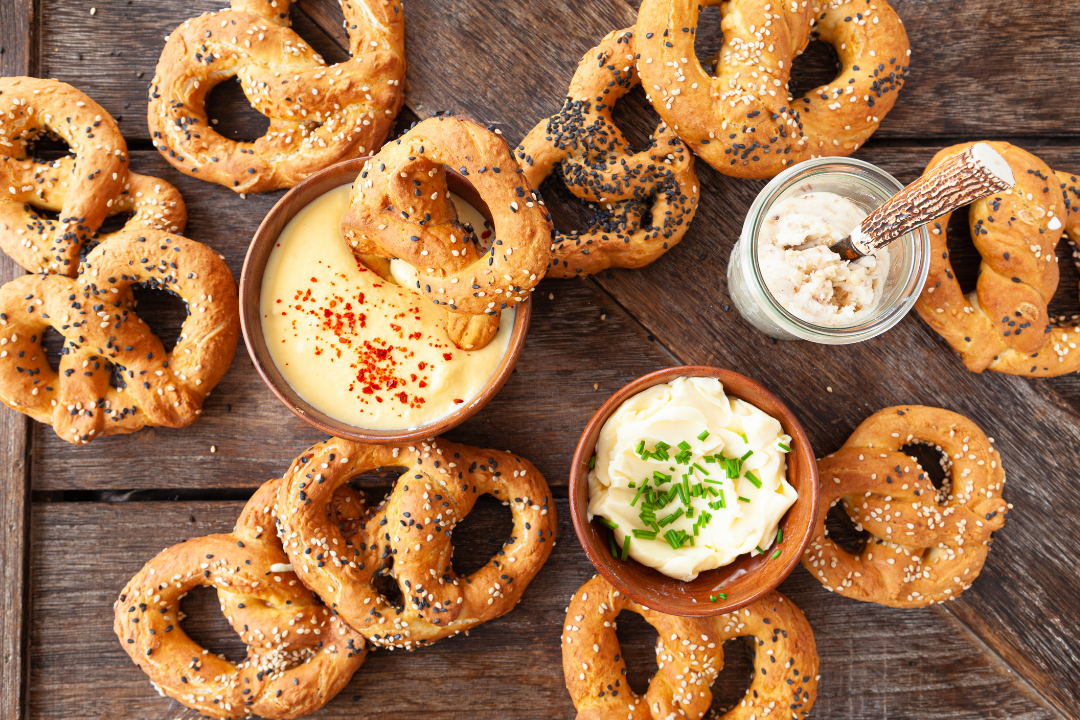 Event short description

Hosted by
The Good Food Project
Master this iconic treat you'll up-level with fillings and dip!
Virtual event

This host typically use google, but we can integrate with other systems.

Book now - adjust headcount later

Headcount can be adjusted up to 2 days before the event.

Group size

This event supports 12 - 1000 participants.

Group participation level

High - Guests will be asked to perform tasks, respond to, or engage with the group.

Event duration

1 hour 30 minutes
Full details
How it works
Pretzels have always been iconic but they are even better when they are warm, fresh, made by hand, stuffed with delicious fillings, and served with dip. You can choose sweet fillings, stuffed with cinnamon apples and dipped in cream cheese, or savory, filled with gooey cheese and herbs and dipped in marinara. Class begins with a short look at the rich history of pretzels, then guests will mix, knead, fill, twist, poach, top, and bake their pretzels. After a few short minutes in the oven, their efforts will be richly rewarded with warm, soft pretzels that are unlike anything they've ever had before. Guests will leave class with a dozen delicious filled pretzels, dipping sauce, recipes, and the knowledge that amazing pretzels are only a few minutes away, anytime they want them.
*If you'd like to request a custom pretzel (shape of your logo or run a type of competition) let us know via chat after booking and we can accommodate!
This host supports the following options:
Breakout rooms

This event uses break out rooms.

Same location

Individuals can join this event remotely or as a group from the same location using a single device.

Pre-assigned teams

For this event you can organize your guests into pre-assigned teams.
Things you'll need
Each guest will need to supply the items below to participate fully in this event.
INGREDIENTS:
All-purpose flour
Rapid Rise yeast
Brown sugar
Butter
Salt
Egg
Cornmeal
Baking soda
For Savory Pretzels:
A strong cheese (i.e. sharp cheddar, Gruyere, Parmesan, Asiago)
A melty cheese (i.e. Monterey Jack, mozzarella)
Dried herbs (i.e. rosemary, thyme, oregano)
Can of crushed tomatoes optional additions (i.e. green chiles, olives, etc)
For Sweet Pretzels:
Cinnamon
Cream cheese
Vanilla
Optional addition (i.e. apples, pear, berries)
UTENSILS:
A mixing bowl
A measuring cups and spoons
A wooden spoon
Baking sheet
A large sauce pan or stockpot
Rolling pin or wine bottle
Optional basting or pastry brush
Optional large flat slotted spoon or spatula
Small cup of water
How to join
This event is delivered using the video platform: Google Meet
Prefer to use your own platform? This host supports the following options:
Zoom

Google Meet

Cisco Webex

GoToMeeting

Microsoft Teams

Blue Jeans
Other things you will need to join:
Link to this event, provided after purchase
Internet connected device, tablets and phones are supported
Internet connection

Your host
The Good Food Project
The Good Food Project is designed to make baking fun and accessible for everyone. We have been teaching cooking, baking, and planning corporate food events in Colorado and online for more than 11 years. Chelly Klann, founder of The Good Food Project also created The Edible Revolution, a non-profit dedicated to teaching kids to cook; taking a portable kitchen to schools, libraries, and rec centers to cook with kids as young as 18 months old.