Virtual Wine Sampling | 4oz Bottles
Average rating:

4.5
Number of ratings:

(15)
1 hour virtual event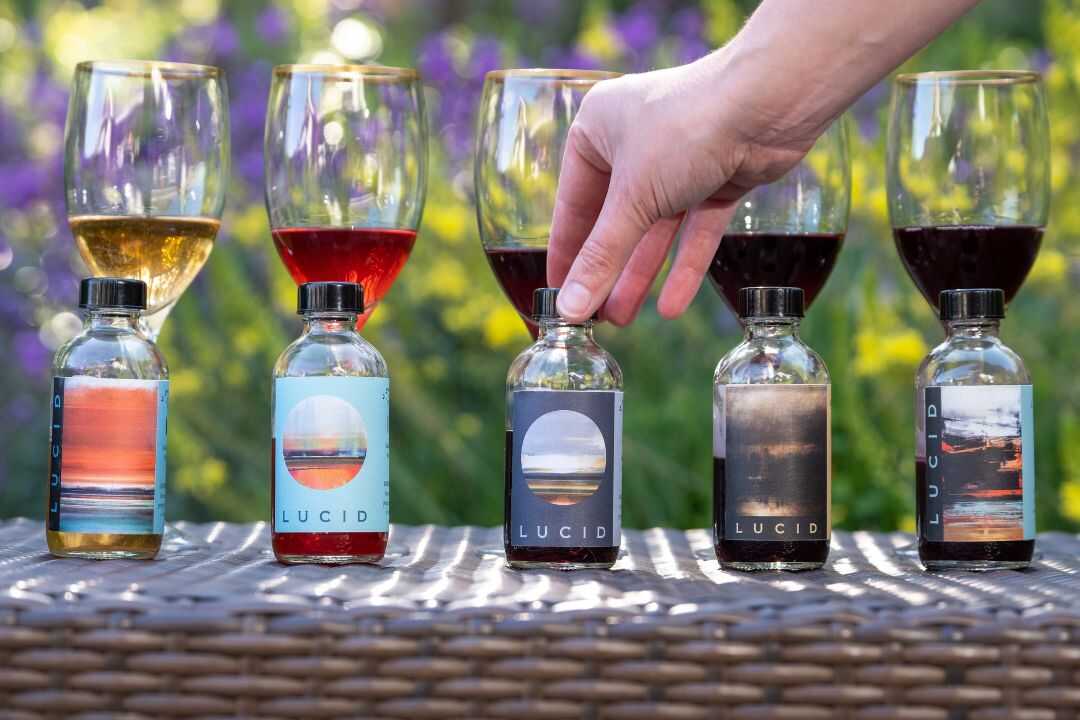 Event short description
Send wine tasting kits to guests across the US and join together for a private hosted virtual wine tasting! Our classic 5-wine lineup includes perfectly portioned 4oz mini bottles of a white, rose, & three red wines. This event is hosted by a live on-staff sommelier.
Virtual event

This host typically use zoom, but we can integrate with other systems.

Group size

This event supports 5 - 2000 participants.

Group participation level

Medium - Guests will be sent a kit or prompted to participate in this event.

Kit included

A kit to accompany the event will be delivered to each guest prior to the event date.
Full details
How it works
This wine tasting will be hosted by one of our house wine specialists. We ship the wine to each member of your group before the event. Your group enjoys Lucid Wines in your "Virtual Tasting Room" on Zoom or as desired when we come together to discuss the flavor and character of each wine as well as information about tasting basic and the differences between each wine.
Kit contents
Each guest of the event will receive these items in a shipment to their address.
Lucid Timeless Tasters (4oz bottles) of the following wines:
"Skin Contact" Chardonnay
"Urban Flora" Rosé
"Ripen" Zinfandel
"Delirium" Cabernet Sauvignon
"Wanderlust" Red Blend
Supported dietary restrictions:
Vegetarian

Non-alcoholic

Gluten-free
Shipping & delivery
This event includes a shipment to each guest's address. You'll have to provide addresses 14 days prior to the event to allow for shipping and delivery.
Shipping policy or exclusions
We cannot ship alcohol to UT, AL or PO boxes During the Summer months, all orders include expedited shipping. A $50pp premium is required to ship alcohol to HI and AK Events may be rescheduled at any time at no additional cost. Any events cancelled after items have been shipped will not be eligible for a refund. If a client submits a request less than 10 days from the date of the event or requires expedited shipping, additional costs can range between $20-$50 depending on location and urgency Tracking numbers are provided to the contact information we receive. It is the responsibility of the recipient to track the package and be available to sign for delivery. 3 delivery attempts will be made, at which point the items are returned back to the winery. If items are returned due to failed delivery attempts, the client is responsible for reshipping fees should they want to resend the item If an item is lost or broken in transit, the winery will reship at no additional cost. If an item arrives broken we ask that recipients reach out to shipping@voluptuarywine.com with a photo of the damaged product
International shipping is not available for this event
Expedited shipping is available but is not included in the price and will incur additional costs
Custom messages are available to include in shipments
Things you'll need
Each guest will need to supply the items below to participate fully in this event.
How to join
This event is delivered using the video platform: Zoom
Prefer to use your own platform? This host supports the following options:
Microsoft Teams

Zoom

Cisco Webex

Google Meet
Other things you will need to join:
Link to this event, provided after purchase
Internet connected device, tablets and phones are supported
Internet connection