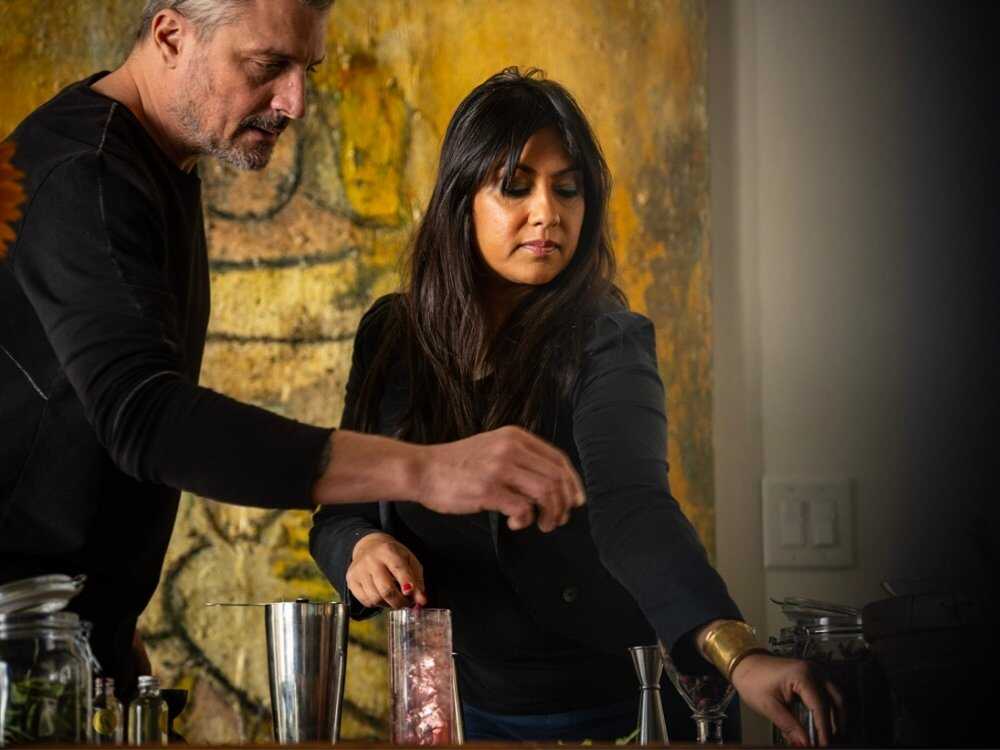 Event short description
Learn to create three seasonal cocktails made using our artisan cocktail kits delivered straight to you. During this one-hour experience, you'll learn cocktail tips, hacks, whilst learning more about the ingredients we're using and some fun food and drink trivia.
Virtual event

This host will provide a zoom video conference.

Group size

This event supports 10 - 150 participants.

Group participation level

Medium - Guests will be sent a kit or prompted to participate in this event.

Kit included

A kit to accompany the event will be delivered to each guest prior to the event date.
Full details
How it works
Think of this experience as an interactive drink and food show. Guests will learn how to create three cocktails using a cocktail kit that is sent to them with bar tools, custom garnishes, and artisan syrups. You will be guided by a master mixologist and learn the art of mixing drinks at home and how to incorporate seasonal ingredients into your cocktails.
Kit contents
Each guest of the event will receive these items in a shipment to their address.
A 250 ml shaker tin and strainer
Jigger
Mixing spoon
3 artisan syrups
3 custom garnishes
Prep list & drink menu
Supported dietary restrictions:
Shipping & delivery
This event includes a shipment to each guest's address. You'll have to provide addresses 14 days prior to the event to allow for shipping and delivery.
Shipping policy or exclusions
Shipping is included in the price to within the contiguous United States. Food or live items cannot be delivered to PO Boxes.
International shipping is not available for this event
Expedited shipping is not available for this event
Things you'll need
Each guest will need to supply the items below to participate fully in this event.
Glassware, whatever you normally use will suffice
Suggested alcohol from the prep list
Your kit
How to join
This event is delivered using the video platform: Zoom
The host is not able to use a video link provided by you.
Other things you will need to join:
Link to this event, provided after purchase
Internet connected device, tablets and phones are supported
Internet connection