Hybrid and remote work has dramatically changed both workplace dynamics and company culture. Employees no longer need to make time for a lengthy commute or spend 9–5 sitting in a cubicle. Instead, they can take care of their work tasks from the comfort of their home office, providing more time to maintain a healthy work-life balance.
Even if your team is still on-site or coming into the office regularly, it's unlikely that it will stay that way forever. In fact, surveys suggest that over 85% of managers believe that having teams with remote workers will become the new norm in the upcoming years. 
However, with this shift to hybrid and remote work comes major changes to the overall team experience. While companies are learning how to manage a remote workforce, they also need to be looking for ways to keep their employees connected with their coworkers in a new digital age.
You may wonder how to manage your team and encourage continued growth in the workplace if everyone is working from home.
Through team-building hybrid activities, your employees will learn how to work with one another even while miles apart, increasing productivity and improving the quality of work they produce. Not only will team-building help your team connect and collaborate, but developing effective communication also makes your company 4.5 times more likely to retain talented employees.
These team-building experiences have the power to do so much more than relieve your employees of workweek stress and reward them for their hard work. When used correctly, they allow you to build a team of employees that trust each other and connect on a deeper level.
As an employer, you want to improve your team's work experience while streamlining their success. Naturally, work can get stressful, overwhelming, and even lonely sometimes. Some research suggests that when employees feel isolated in the workplace, it can reduce productivity by 21%. If your remote team isn't communicating effectively on projects, this can impact productivity and workflow. 
Although remote work offers several advantages that can benefit company culture and your team's well-being, employees can still feel a disconnect that impacts them individually.
We're here to walk you through everything you need to know to plan and execute successful team-building events for your remote or hybrid team.
Team-building activities for hybrid meetings are mini-games, icebreakers, exercises, and events that bring your team together. They are designed to encourage collaboration and promote communication between coworkers. These activities help teams grow closer and trust each other more, even if they live in different states or countries. 
With team-building hybrid activities, your team may meet in person, via Zoom, or both – the choice is yours. When planned regularly, these special events help improve productivity, increase retention, and build a company culture you can be proud of.
The primary purpose of team building is to help boost morale, generate connections, and help your team work better together. In addition, improving communication among team members keeps your team engaged and improves their overall work ethic.
The more opportunities your team has to engage with one another, the closer they become. In fact, some research suggests that socializing can improve communication patterns by more than 50%. Even small team-building exercises, such as hybrid icebreakers or mini-games, can help support positive communication habits among team members.
When choosing a virtual team-building exercise for your team, we recommend considering your overall goal. For example, maybe you have a lot of new faces at your company, or you want two departments to work together on more projects in the future.
For new hires, you might choose to go with more interactive and social hybrid icebreakers, such as a trivia game. On the other hand, if you're trying to reengage with long-term employees, a happy hour or cooking class may be a better fit.
You may have a particular goal in mind for your team and a team-building exercise can inspire them to reach it. Whether it's an employee's first week on the job or they've been with the company for more than five years, there is always something new to learn from a team-building experience.
The beauty of team-building activities for hybrid teams is that they're fun and interactive. As a business, you have the opportunity to choose from a wide variety of activities. From scavenger hunts to cooking classes, you'll find something in our catalog that fits your team's needs and provides an enjoyable time with their colleagues.
Here are a few of our favorite categories to choose from for team building:
Have some fun and make new friends! Entertainment virtual events are among some of the most popular experiences we offer. Not only do they promote team building by encouraging members of your team to work together; they are also a ton of fun! From team trivia to magic shows, we have an entertaining virtual experience that will help foster a connection between your team members.
Surprise your team with a cooking experience like no other. Cooking is a great way to connect, eat yummy food, and enjoy your virtual company. When you choose a cooking class, you're providing your team members with more than just a delicious team-building exercise: They are also receiving an interactive experience that will put their creativity to the test and teach them a new skill or two. The best part is that they will have a home-cooked dish to share with their friends and family after the workday is over!
Show your employees that their health and wellness matter to you with one of our unique relaxation experiences. These events allow your team members to unwind and de-stress from the workday. From corporate yoga to plant design parties, these events emphasize the individual's needs, uplift their spirits, and encourage them to connect with their colleagues through a shared experience.
Expand your team's minds and put their creativity to the test with virtual experiences that focus on inspiring their inner artists. Encourage them to think outside the box! 
These virtual events provide your team with an interactive experience that allows them to express themselves and engage with their team members. Creative activities are great for smaller groups or a department mixer.
Who doesn't like a little friendly competition? Games are great remote experiences designed to get the whole Zoom laughing and having fun together. Some games even have breakout rooms that allow everyone to connect on a more personal level. We recommend using a virtual game experience for a fun workweek happy hour or after a company-wide meeting.
Learning and development team-building hybrid events focus on building your team's personal and professional skill set. These activities help your team connect with the people they work with – and even with themselves – on a deeper level, pushing them to be the best they can be. Whether learning how to show gratitude or practicing mindfulness in the workplace, these activities can help your employees maximize their potential as individuals and as a team.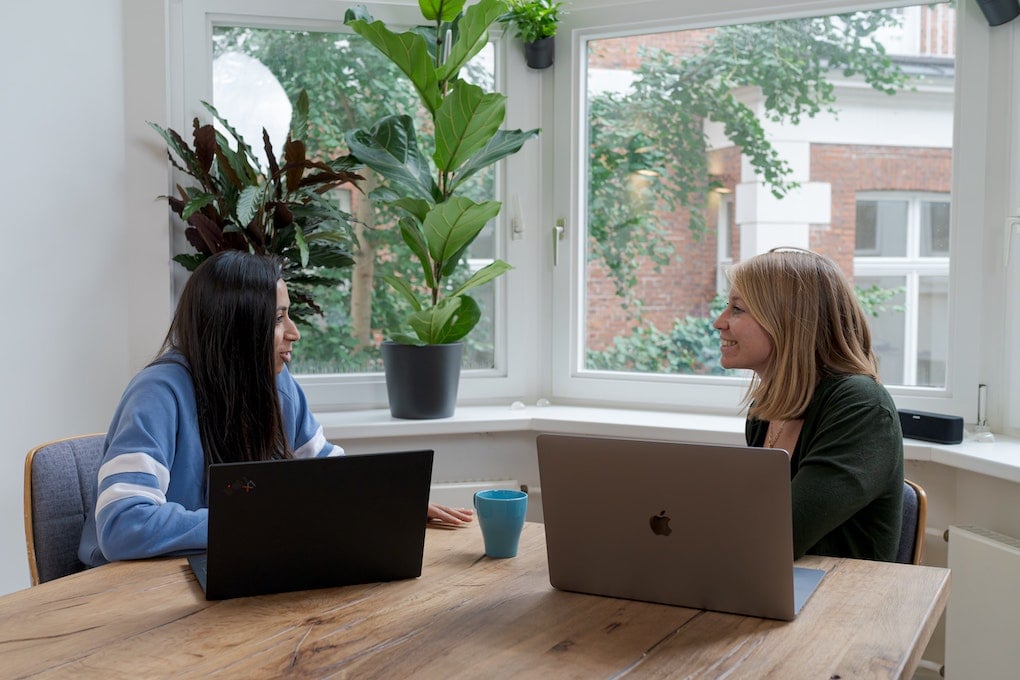 Team building for hybrid teams doesn't have to be a challenge. At Elevent, we have a large selection of high-quality hybrid team-building activities that will enhance the workweek and encourage your team members to bond.
Here are a few of our favorites:
Get ready for the ultimate party experience. Your team members will receive everything they need to put their art skills to the test and create something beautiful. Everyone will have the chance to laugh, socialize, share, and create a stunning masterpiece with their colleagues.
When you plan a paint party, you can choose to have a friendly competition by having everyone share their art on Zoom. The host guides your members through the experience, encourages participation, and answers any questions. This virtual team-building idea can accommodate groups of 10 to 500 and pairs well with wine.
This experience is unlike any other and is sure to get a positive reaction from your team members. Your team will experience a live tutorial on how to craft a perfect sushi roll and make two delicious cocktails. During this 90-minute virtual experience, there is a designated time for team socializing and bonding to ensure everyone gets the most out of their experience. 
Each team member will have everything they need for this Sushi & Sake experience delivered to their door, so you never have to worry about prepping and planning. If you're looking for a unique experience to accommodate your group of 100, this may be the perfect team-building activity for you.
Take a (figurative) stab at a good murder mystery! This experience has everything you need for the perfect team-bonding experience: mingling, hybrid icebreakers, fun, and a whole lot of intrigue! Throughout the experience, your group will need to work together to solve puzzles and think critically about clues. This event can accommodate 12 to 50 team members and is designed to get everyone in a cocktail party mood.
Pro tip: Enhance this experience by encouraging your team members to dress up for the cocktail party or send a bottle of wine for them to enjoy throughout the experience.
Channel your inner cook and get ready to get your hands deliciously dirty with this ravioli workshop. Your team members will have the opportunity to work together, enjoy delectable food, and learn all the tricks of making pasta. At the end of the experience, everyone will have a restaurant-quality dish they can enjoy with friends or family. We recommend doing some icebreakers before the event or ending it with a happy hour to increase engagement and enhance the experience.
Get ready for an online escape room full of surprises and entertainment. Your team members will need to explore rooms, gather clues, and share tools with everyone throughout this interactive game. The only way to beat the game first is to work together with other teammates and effectively communicate your way throughout the rooms.
This 75-minute experience can accommodate groups of 15 to 350 and is the perfect escape room for anyone who loves jam-packed entertainment and a little competition.
On a time crunch? Looking for something quick and easy you can plan tomorrow? The good news is you don't have to plan an entire virtual event to have a valuable team-building activity. Here are five of our favorite activities you can implement into the workday, introduce during team meetings, and use to stimulate engagement among your team members.
If you have a hybrid team, we recommend coming together for a community service event. It feels good to step back from the workday and give back to your community. Not only will you be actively making a difference together, but it will also boost morale and keep spirits high.
Consider planning a community service project during the workday to increase participation and ensure more individuals can attend. Your team might even like it so much that serving your community becomes an annual event!
Looking for a way to kick back, relax, and talk about anything but work? Then you need a company-sponsored happy hour in your life. A happy hour can be an entertaining opportunity to meet your team members and encourage them to connect on a more casual level.
All you'll need to do is block out a time to set up a happy hour Zoom party at the end of the week or make a reservation at a local hot spot for everyone to meet in person. If you choose to take an online approach, we recommend pairing it with one of our virtual events or including a lot of icebreakers to help lighten the mood.
Sometimes, all you need is a few great questions to break the ice and get everyone familiar with their coworkers. Consider starting an email chain or using your work chat to encourage team members to answer questions, share photos of their pets, or interact with one another. The best part about mini icebreakers is there's no additional pressure on employees. Small interactions turn into real connections that help your team members bond.
It may seem silly, but those #random or #pets work channels at work have the power to create authentic connections in the workplace. Providing chat channels like these during work allows team members to connect based on interests, hobbies, and everything in between. They may even plan some puppy play dates outside of work!
Another great option is encouraging your team to find a buddy they have never spoken to and plan a Zoom lunch or coffee together. This is an easy way to encourage members of your team to connect with someone outside of their core group and create authentic relationships in the workplace.
We recommend blocking time on everyone's calendars to have lunch or coffee or regularly encouraging it in weekly meetings. You never know; they may become good friends outside of work!
We recommend planning one team event per quarter. This will give your company enough time to plan events of value and provide a good cadence throughout the year. In addition, adding the dates to your employees' calendars in advance can help individuals get excited and prepared for some fun.
The dates you choose for your event planning may depend on your business model – for instance, when your slow and busy seasons are – but your team's happiness and success should never be on the back burner. We recommend planning your events at the beginning of the year so team building is prioritized and top of mind.
To maximize the results of your team-building initiatives, we recommend supplementing your larger departmental or company-wide events with activities catered to smaller, more manageable groups. This is a great way to ensure that team members who work together are comfortable collaborating and connecting with their team members.
From holidays to end-of-quarter celebrations, there is always an opportunity to encourage team building in the workplace. If you run out of inspiration or want to plan an event with special significance, you can use national holidays to help you curate engaging and interactive events for your team.
For example, you may want to celebrate your team members on Administrative Professionals Day. You can plan a luncheon for their hard work and utilize a virtual team-building exercise to enhance the experience. This is an easy way to show you care about their hard work and that you value what they bring to the team.
Keep in mind, when planning virtual events around an upcoming holiday, it's important to stay mindful of individual beliefs and look for holidays that bring everyone together.
Planning an event around one of these national holidays makes it easy to schedule at least one event every quarter while adding purpose to your team-building exercises. Every employee is unique and different in their own way — that's the great part about having a team! Show your employees you care about their individuality and throw them an event that makes them feel included.
These activities have the potential to enhance your team members' work experience and reduce turnover in the workplace. If your team members are happy, have connections, and successfully collaborate on a daily basis, you'll start to notice the high-quality work they produce. When it comes to remote or hybrid teams, it has never been more crucial to provide team-building activities that foster workplace relationships.
As you start researching team-building solutions for your remote or hybrid workforce, we recommend looking through our full list of virtual experiences to find one that works for you and your company. From game nights to paint-and-sips, we have an event that celebrates your team members' unique personalities.
When you work with Elevent, you never have to worry about planning or executing your events. We provide high-quality experiences for groups of all sizes and take care of all the logistics so that you can join in on the fun too!
On the hunt for some inspiration? Here are a few holidays and celebrations that can help all employees feel welcomed and included:
Black History Month
Women's History Month
International Women's Day
Asian American and Pacific Islander Heritage Month
Arab-American Heritage Month
Administrative Professionals Day
Mental Health Month
South Asian American Heritage Month
Memorial Day
Mother's Day
Originally published at Jan 17 2023, 1:52:28 PM. Updated on Jan 24 2023.