Are you planning a virtual event for your company? Whether you're hosting a simple trivia night or a full-blown virtual game night for your company, you'll need to divide people into teams — and that means coming up with team names.
You might let teams come up with their own names, pick from a list, or you may even prefer to simply assign team names to different groups. Here are some great names to choose from, plus some tips to keep in mind if you're letting groups choose for themselves.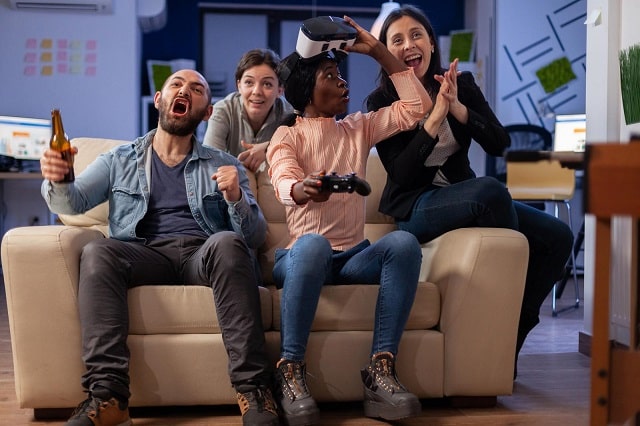 Want some ideas for your team names? Whether you're looking for some classic team names, work-specific ones, or funny names, try some of these favorites.
While they may not be the most exciting names out there, these classic team names are simple and inoffensive:
We Are the Champions
Quizmasters
The A Team
Risky Quizness
Taking Care of Quizness
The Usual Suspects
Quizbusters
Top Dogs
Give Us a Clue
Eggheads
Universally Challenged
Want something work-themed? These types of names can work well if your groups are based on your actual work teams or departments:
Desk Demons
Cubicles R Us
Quota Crushers
Commission Impossible
Numbers Ninjas
Tech Monkeys
Technocrats
IT Phone Home
Talented Managers
Team ABC (Always Be Closing)
All the Write Answers
Can't Beat the C-Suite
Got colleagues with a dry sense of humor? These funny and sarcastic work team names might be perfect for them:
Let Me Google That For You
HR's Worst Nightmare
We're Just One Big Happy Family
It's Five O'Clock Somewhere
The Sell-Outs
Can I Go Home Yet?
The Procrastinators
Glorified Babysitters
Wait, Who's Manning the Phones?
The Slackers
We Run On Coffee
The Village Idiots
TV, film, and music are all great sources of funny team names — with the bonus of being perfectly suitable for the workplace. Check out these pop-culture-inspired examples:
Malcolm in the Middle Management
How I Met Your Manager
The Quiz Place
Only Quizzes in the Building
Home-Working Alone
Honey, I Shrunk the Quiz
Quizarding World of Harry Potter
Pan's Labyrinthian Quiz
Close Encounters of the Quizzical Kind
Scott Pilgrim vs the Quiz
No Quiz for Old Men
Shaun of the Dead Wrong Answer
Star Wars: Return of the Winners
It's a Wonderful Quiz
There Will Be Questions
The Silence of the Losing Quiz Team
The Good, The Bad, and the Quizzical
Eternal Sunshine of the Spotless Quiz
Indiana Jones and the Last Quiz
If you want (or need) teams to stick to a single-word name, these make great options:
Warriors
Titans
Champions
Lions
Ninjas
Unbeatable
Unstoppable
Conquerors
Innovators
Hustlers
Crushers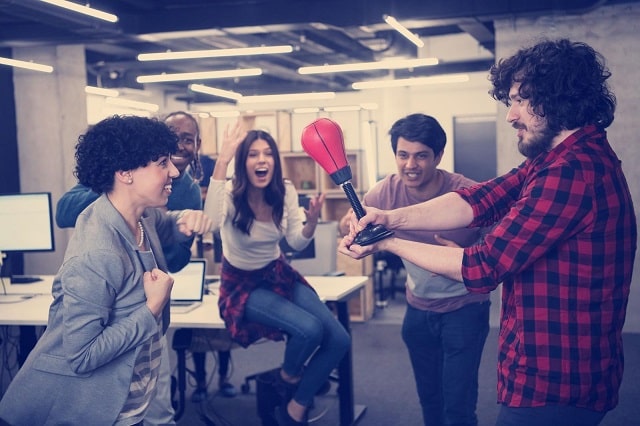 If groups are going to choose their own team names, here are a few tips to make sure the process runs smoothly.
It can take a while to decide on the perfect team name. Either allow time during your event or retreat for this or have groups submit their names in advance. Don't let the process drag on for ages, though. Instead, set a clear deadline.
You might hope it would go without saying that team names should be appropriate for the workplace, but it's a good idea to be crystal clear about this.
For instance, you might ask groups to avoid using swear words or sexual innuendos, but you might also want to avoid other categories, like alcohol-related team names, religious team names, or any team names that refer to a specific staff member.
Perhaps team names are limited to a specific length or they can't use certain characters, such as apostrophes. They might even be required to be only one or two words. Make sure you're clear about the format for team names.
If possible, check team names before they're added to the system you're using. You don't want to end up with two teams that have almost identical names, for instance, or a team that's using a name that could be offensive to another staff member.
Make sure you check team names will sound OK when read out loud, too. You probably don't want a "Norfolk N Chance" or "Hoof Hearted" sneaking in there!
Whatever team names you use, have fun with your colleagues. To get even more out of the game, you might also want to offer a virtual prize for the top team(s), and don't forget to check in with people after the event to see what they enjoyed most and what you could do differently next time.
Originally published at Mar 17 2022, 12:22:23 PM. Updated on Sep 29 2022.